The Iron Island Museum
998 Lovejoy Street
Buffalo, New York 14206
Vendor_Forms716-892-3084


.



Museum Hours

Thursday: 6 pm – 8:30 pm
Friday and Saturday 10 am – 12:30 pm

*SELF GUIDED TOURS $2.00 per person
*GUIDED GHOST TOURS $5.00 per person
(Reservations Recommended)
*PRE-PAID TOURS can be scheduled for groups by appointment

Thursday guided tours will be
from 6:30 pm – 7:30 pm.

Overnight investigations available Sun-Sat by
request - email Linda at ljhgold@aol.com or
Click here for details

Museum tours also available by appointment.
---
Flight, Bite & Fright Night(s) Gift Basket Raffle
Aug 1 - Dec 30, 2016
Iron Island is raffling off a gift basket to The favorite city to visit, Buffalo, NY ($1000 value),

Items included: $300 Gift card from Southwest,
2 night stay at the Hampton Inn & Suites (Buffalo-Airport, NY),
6 hour investigation at the most haunted location, The Iron Island Museum,
gift cards for Buffalo specialty restaurants,
and $100 gift card from Nouvea-U Spa

Tickets are $5 each or 6 for $20

A tour of the Iron Island Museum with every $5 ticket purchase.

Drawing will take place on December 30, 2016
Tickets
$5.00 per Ticket
$20.00 per 6-pack of Tickets
---
4th Annual Haunted Food Truck Rodeo
Saturday, October 22 at 5 PM - 8 PM
We are super excited to announce the return of the Food Trucks to Iron Island! Along with the delicious food we will have free face painting for the kids, physics (for a small fee), and a tour of the Haunted Iron Island Museum ($5 per person, no vouchers accepted that evening).

Food Trucks 5 PM to 8 PM
First tour at 5:30 PM - Last tour at 8:30 PM tours will run continuously throughout the night!

The 10 trucks that will be there are:

R & R BBQ
Street Eats
Amys Food Truck
Tuk Tea Company
Sweet Melody
Gourm-Asian Bistro
Sweet Hearth
The Great Foodini
OG Wood Fire Pizza
Ru's Pierogi
---
Spooky Beer/Wine Happy Hour #2 (And Haunted Halloween Costume Party)
Friday, October 28 at 6 PM - 10 PM
Due to poplular demand we'll be hosting a second Spooky Beer/Wine Happy Hour. Come and bring some friends for fun, ghostly stories, refreshments and a good old fashioned scary good time. Costumes are optional, but the best costume will win an overnight stay at the Iron Island Museum for up to 5 people ($150 value!).
Join the Iron Island Museum for a Spooky Happy Hour benefiting the Iron Island Preservation Society and Museum Restoration Fund. Your $30 Donation gives you access to all the fun.

~ Commemorative Glass (pre sale only)
~ Wine & Beer
~ Haunted Tours
~ Treats & Eats
~ Psychic readings available for a small fee
Bring a friend to this comfortable and spooky happy hour this Halloween

$30 per person, includes food, beer/wine.
21 years old and older only.
Tickets

$30.00 per Person
---
German Krampus Christmas Party
Friday, December 2 from 6 PM - 10 PM
Celebrate the German tradition of St. Nicholas or if you are bad the German Krampus.
Enjoy the scary Stories of Christmas past with some good old fashioned German food and drink. But be very afraid that The Krampus may be lurking around the corner.
A shuttle bus will take you between the Iron Island Museum, Adam Mickiewicz Library and Arty's Bar for some Krampus fun!
$15 per ticket for the shuttle. German drinks, snacks and cash bar at each location.
Join us for the parade of Krampus'... more details to follow!

Walk in's welcome

21 years old and older only.
Tickets

$15.00 per Person
---
Iron Island Neighborhood Book
Purchase your copy of Shep: A Reminiscence
In 1904 Charles P. Barth and his family lived in Iron Island, with his dog Shep! Charles wrote a wonderful book about growing up here.
I heard about this book but was unable to find it anywhere, finally a friend of mine found it in the rare book collection at the Erie County Library.

I read the book and fell in love with his story, and his vivid details of what Iron Island was like back in the day.
With permission from his family, the Iron Island Museum has been able to re-publish his book and will be selling copies at the
museum and online. If you grew up in Iron Island or even love stories of old City of Buffalo neighborhoods, you will love this book.
The book has been dedicated to Charles' nephew Richard, who we met a few years back with some of his family. They are wonderful people who had so many other stories to share with us about the neighborhood and their family.
Unfortunately Richard passed away a few months back and was unable to be here for this. Thank you to his daughters Deb Barth Klees, Pam Buckovich and Donna Jo, for their help in making this happen. You can pick up a copy of the book at the museum for $10, or if you order here, we can mail one to you for $15.
Book Orders

$15.00 per Book
---
Warm Up Your Insides
With These Mugs

An Iron Island Mug is a great way to enjoy your winter coffee, tea or hot chocolate! Or give them as gifts! 2 different color options. $8.00 per mug, plus $5.00 extra for mailing.

Stay Warm
In An Iron Island Hoodie

We have just added this great hoodie to our online store. Wear your favorite Museum where ever you go. It's prefect for the upcoming fall weather or holiday gift! Get them while they are in stock. Sizes Medium up to XXL.for $40.

Bring Iron Island
Home With You

We have just added, "Hanutingly Charming", a 45 minute documentary of personal accounts and actual investigative footage of hauntings at Iron Island Museum. Go buy it in the store for $13 or pick one up at the museum for $10.

Special Hotel Rates For Overnights!

If you are coming to Buffalo to visit the Iron Island Museum, check out the great deals at 2 local Holiday Inns and 1 local Holiday Inn Express for a special Iron Island rate!
---
---
Let's Honor Our Veterans of All Wars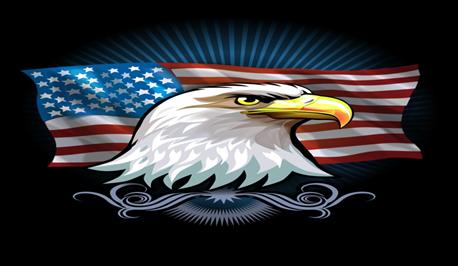 ---
For additional information on any of these services email Linda at ljhgold@aol.com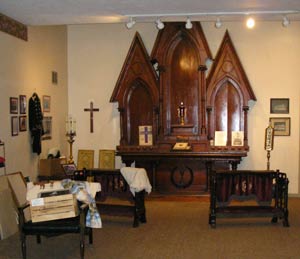 The Iron Island Preservation Society of Lovejoy, Inc. was formed in 1994. The originators met in each others homes at the start and then rented an apartment and storefront at 1132 Lovejoy Street. The all -volunteer members met monthly and initiated their mission which is "to preserve and beautify the Iron Island neighborhood and improve the quality of life for the residents". An annual festival was run by the group and was held on Lovejoy Street for 13 years. The members hung dedicated American Flags on the light standards along the business corridor in the summer and put up Christmas decorations for the holiday season. They cleaned Hennepin Park, Davey Street Playground and the entrance to the Lovejoy neighborhood at William and North Ogden Streets. Their fundraising efforts allowed them to place a Welcome Sign at one of the main entrances into the City of Buffalo, The society launched many petition drives to SAVE HENNEPIN PARK, SAVE MEAD BRANCH LIBRARY, SAVE OUR FIREHOUSE, SAVE PRECINCT 11, SAVE OUR K-9'S and many more. The work of the Iron Island members is well-known throughout the area and several awards were presented to the society. In August, 2000, a businessman, Mr. Anthony Amigone, noticed an article in the Buffalo News which told of the preservation efforts of the society and he donated his 1895 former church/funeral home to the group to house their museum. In October, 2000, a Grand Opening was held at the new museum which was attended by family members of Mr. Amigone, members, friends and families and some elected officials. This building now houses a variety of mostly donated items, including a wooden altar from a neighborhood 1896 church, railroad items, military uniforms and much more.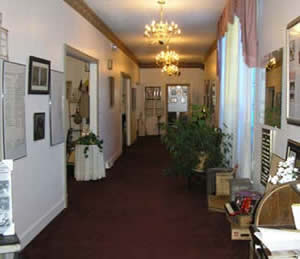 Research is now being done on the history of the building. Recent findings include the fact that there was a small wooden church at this site in 1888 with a parsonage erected to the west at 994 Lovejoy Street. Drawings were gleened from the archives at the Buffalo and Erie County Historical Society and further information was obtained regarding Henry Lovejoy who is the namesake of Lovejoy Street. The brick church was erected in 1883 and opened in 1885 and was well-attended by the congregation of the Methodist-Episcopal denomination. A photo of the first board members was also obtained for our records. The building was abandoned for a short while until a funeral director took over in the late 50's. To accomodate services, a building was built inside the church with three viewing rooms. There is an apartment attached which is now used for meetings and various other events. The viewing rooms now contain countless artifacts and one room is the New York Central Terminal Gallery which includes a model of the terminal building.


Contacts are: Linda J. Hastreiter, President, Marge Thielman Hastreiter, Vice President and Curator, Rose Bologna, Secretary. Phone #: 716-892-3084, Messages are retreived daily.



---
The Iron Island Museum would like to thank everyone at Santoro Signs for thier generous donation of the new sign donated in April of 2009. We love it! Click on the image to see a large version.

Santoro Signs, Inc.
3180 Genesee Street,
Cheektowaga, NY 14225
716 895-8875
http://www.santorosigns.net